"Produce is in my blood."
That's what Rick Armenta, aka The Fruit Man, will tell you about a lifetime spent selling California cherries, heirloom tomatoes, locally grown avocados and everything in-between. It'd kind of have to be, what with the hours and all – hitting the road every other day at 1 a.m. to make it into downtown L.A. by 2, before all the best stuff is gone. Morning talk-show host hours.
"I'm a night-owl," says Armenta. "I like going out there and finding that gold."
The son of a Kaiser welder and a housewife, Armenta opened The Fruit Man in April 2019, in the old Alpha Beta shopping center at Tequesquite and Pine. He and his three brothers built the display stands out of wooden pallets, and even made the big orange FRUIT MAN sign out front. Soon word began to spread about the place behind Butch's Grinders where you could always find ripe avocados for spur-of-the-moment guacamole, where the strawberries were red all the way through and cups of already-cut-up fruit were waiting in the cooler. And then there was the beet juice.  But more about that later.
Working hard is a point of pride for Armenta, 57, a long-time Riversider who got his start as a Stater Bros. produce clerk back in high school, rising to produce manager by his mid-20s. But the entrepreneurial impulse was never far away. Over the years, Armenta has opened other businesses, but the siren call of produce has brought him back again, and again, and again.
"I love it," says Armenta. "I love everything about it. I love the results and the customers' appreciation."
A refrigerator case near the front door is filled with cups of juices, freshly squeezed every day, in various shades of orange, pink, green and magenta, containers of mango spears, honeydew and watermelon chunks, and packaged salads, all made two doors down at his other venture, The Fruit Man Juice Bar, which opened in early 2022.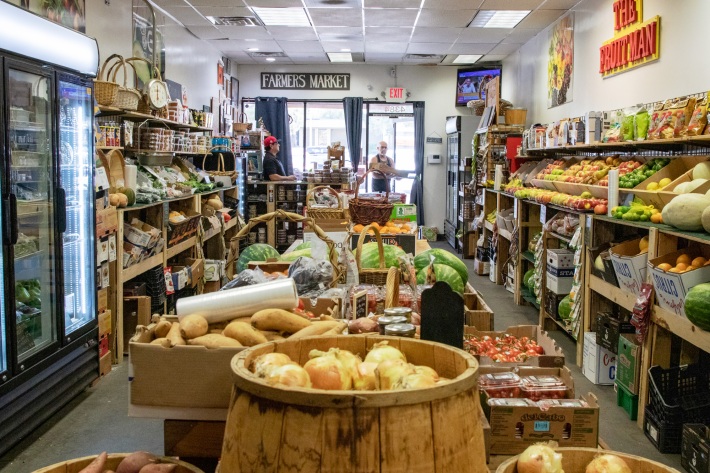 "The old donut shop had a full kitchen and all the equipment needed for safe food handling," Armenta explained, and he saw an opportunity to expand his wares and cut down on "shrinkage" at the same time.
In addition to the exercisers who come in, huffing and puffing from their walks up Mt. Rubidoux, and the high school track teams who recharge with juice after practice, Armenta supplies several local restaurants with the vegetables, fruit and other items they need to stay in business.
And back at his small store, every nook and cranny is packed with something tasty. Beneath the counter lurks a large selection of dried fruit and nuts, and for the less health-conscious, dried fruit and nuts covered in chocolate.
But what about that beet juice?
"It's beet, Fiji apple, cucumber and celery juice combined, plus a little lemon juice," Armenta says. Even at $6 for a 16-ounce cup, it flies out the door.
"You don't like eating vegetables – drink 'em!"
Comments