The second annual celebration of Juneteenth came alive in Riverside's White Park on Saturday, and while some may be unfamiliar with this historic event, its meaning for the African American community and the country as a whole, the occasion included something most people are very familiar with: barbecue.
In addition to great food, keynote speaker Richard Johnson, educator at Ontario High School and member of Iota Phi Theta, one of the event's sponsoring organizations, provided attendees with a brief history of Juneteenth.
In 1865, Union Army troops marched to Galveston, Texas to notify enslaved African Americans that they were free, two years after the Emancipation Proclamation declared by President Abraham Lincoln on January 1, 1863. The troops arrived with the news on June 19, and the event was celebrated annually in some parts of the country as "Juneteenth." The occasion was declared a Federal holiday by President Joseph Biden in June 2021.
Saturday's celebration showcased several Black-owned businesses as well as historical exhibits from the Civil War era. The event was sponsored by The Black Collective, a movement based in Riverside dedicated to inspiring Black excellence, and Iota Phi Theta's Beta Zeta Omega Chapter, a Black fraternity with active members across the Inland Empire. The fraternity works to promote brotherhood among Black men at chapters at California State University, Dominguez Hills, University of California, Berkeley and California State University, East Bay.
Jaden Powell, founder of Young Americans Creating Culture, a non-profit organization offering youth training in video production, said he had observed Juneteenth as a child with his family and it had helped him to understand his origins and history.
Now, he and other business owners are giving back to the community.
Tatianna Jackson, a peer counselor, and Liza Jones, owner of  Sistah Connection, an African American breastfeeding counseling and maternity services project based in Riverside, were promoting maternal health among mothers of color who may be unaware of the opportunities and treatments they can receive during or post-pregnancy.
"I'm trying to make connections and help moms anyway I can, especially for African American kids," Jackson said. "In the health industry, we don't really get the help we need. We're very low when it comes to childbirth, breastfeeding, anything."
The event also created opportunities for visitors like the Mcdonald family to meet other attendees and understand more about their culture.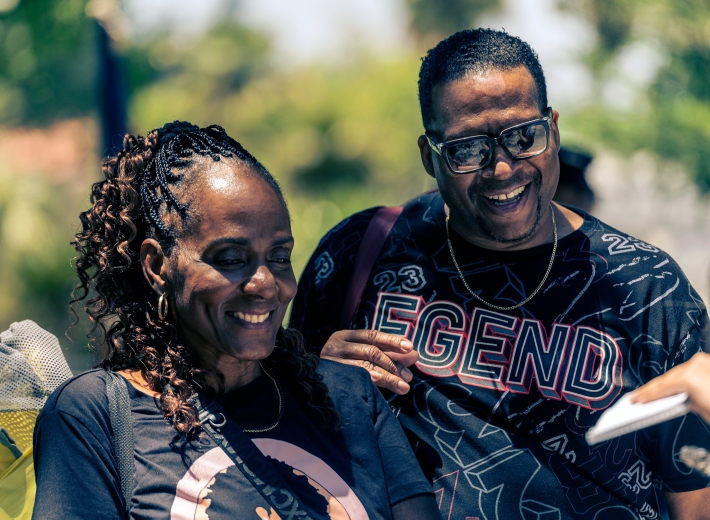 "Juneteenth is new to me, but I wanted to support our people, as African Americans, and just come out and enjoy the community," said Kinnia Mcdonald, of Moreno Valley, who attended the commemoration with her husband, Lindsey. The couple had been introduced to Juneteenth by their daughter, and Lindsey Mcdonald said he felt inspired to continue learning about the holiday.
The event also showcased insights about the Civil War.
Rachel Murrell, a history enthusiast and library assistant at California Baptist University, and her two colleagues, Jeff Blansett and Lennon Hookway, represented the United States' 97th Infantry Division, which consisted primarily of "colored" troops and nurses.
"I loved teaching history, and it's a hobby," Murrell said. "But it's (also) about teaching people about our country's history that they don't know a lot about."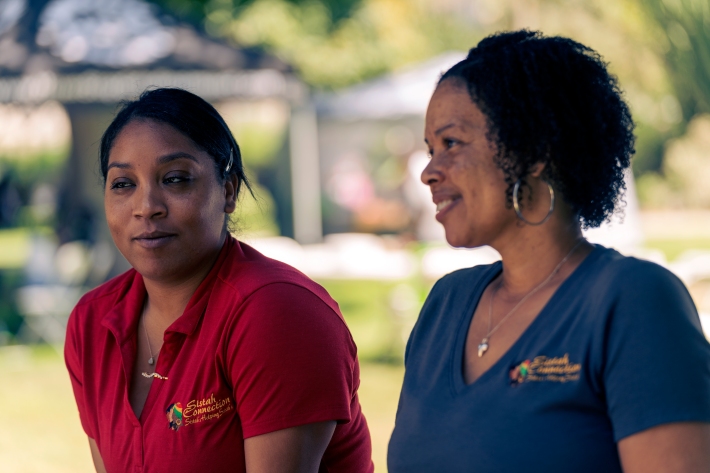 Johnson, of Iota Phi Theta, said he feels there are a lot of misunderstandings surrounding the history of Juneteenth and the emancipation of enslaved African Americans. "If you ever have a northerner telling you southerners were the only ones benefitting off of slavery — [that is a] misconception."
A theme among some Juneteenth attendees was the need for unity among the community in order to discuss complex issues.
"We also have to make action, and …. open the gate for people to be aware of what is going on," said Jazmin Shiner, a Moreno Valley native and founder of Passion Over Riches, an art business featuring photography and collective artwork. "We can't look upon the government to help us, as Black people. We must do what we're doing today to create and come together."
The depth of American society's commitment to equality elicited mixed sentiments from various Juneteenth attendees. Kathleen Barth, an elementary educator for Riverside Arts Academy, said she is unsure of society's approach to the subject of race.
But Johnson is noting important milestones, such as voter turnout in marginalized communities during general and primary elections, and said he is optimistic.
"The future of our society is beautiful; we have more people interested in politics," Johnson said. "We're moving in a great direction because now people (are) understanding what representative government is. People are understanding how important their vote is."
Comments