As origin stories go, it's not going to inspire any comic book writers. No bites from radioactive spiders or injections of experimental serums. Just a meal in Portland, Oregon, 30 years ago, and a home-brewed beer kit that opened the eyes — and tastebuds — of future Euryale Brewing Company co-owner Don Miller to the world of craft-brewed beer.
"I was used to Miller, Bud and Coors," says Miller (no relation to Miller Brewing Company). "They're lager-style beers, very mild flavor, not much hop flavor or aroma. Not putting them down. It's how they got so popular."
But ask him to describe the flavor of those beers to India Pale Ale (IPA), one of his personal favorites: "It's like frozen orange juice versus fresh-squeezed."
Miller started making his own beer where he lived at the time — Hesperia — learning everything he could. The resulting brews were tasty, and he shared them with his father, his friends, and with members of his brewing club, the High Desert Barley Hoppers. He bought a Kegerator, a type of refrigerator that keeps beer cold and pressurized for easy dispensing. No more washing dozens of bottles for each five-gallon batch.
In time, Miller started winning awards for his brews, and judging homebrew competitions. And with his 2003 marriage to Carrie, "the love of his life," as he says – who was studying to become a certified public accountant – all the pieces were in place to turn a home brewing hobby into a business.
Now in its seventh year, Euryale Brewing offers 16 different beers on tap — a selection of pale ales, IPAs, dark beers like coconut stout, amber ales, and the ever-popular seasonal brews, which in summer includes watermelon beer.
Really? Watermelon?
"We take 560 pounds of watermelon to make juice," says Miller. "People take a sip and get a smile on their face and tell me how much they like it."
With Carrie at the helm as chief financial officer (CFO), plus what she calls "a couple lucky breaks," the business weathered the natural disaster that was Covid. Replacing a huge order of empty kegs with individual bottles, they made it easy for retail customers to pick up Euryale brews like "Perseus" (pale ale) and "Iota" (India pale ale) to enjoy at home. Help also came in the form of a loan from the Inland Empire/Orange County Small Business Development Corporation, and a flex permit from the city that allowed them to serve outdoors.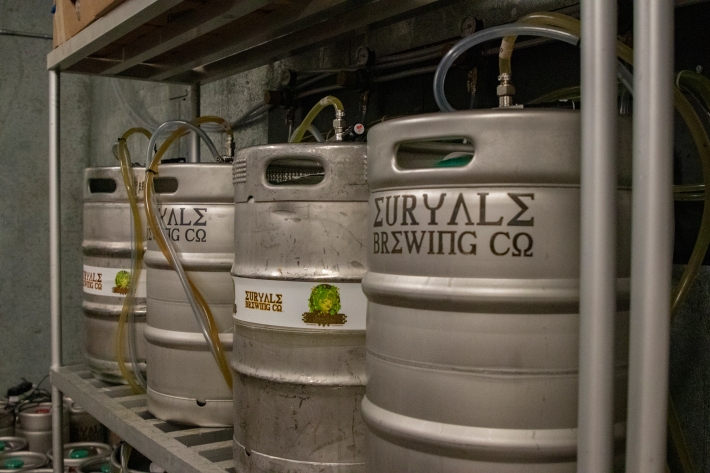 But Euryale is no single-minded purveyor of hops, malt and barley. The place has a welcoming, family vibe — all ages welcome — with trivia contests, open mic and karaoke nights, and "pop-up kitchens" — local caterers invited to offer their wares of handcrafted pizza, fish tacos, pho, and Central American food, among others to customers.
And just like the winemaker who balances the elements of grapes, soil and sun to create certain flavors in his wine – for those with an educated palate, anyway – Miller is always working on his own flavor map.
"I'm eating something or drinking something, and a couple different flavors will come together in my mouth and I'll think, 'wow, that could be a great beer,' " he says. "Different things can bring about a storm of ideas that precipitate into a beer."
Asked if he sees any parallels between his brew-making process and the creative process of artists and songwriters, Miller turns thoughtful. "I think it's the same way for all of us. We come up with an idea, and the idea is a dream. We have to dare to dream. To actually make our dreams come true.
"We all sing our song," says Miller. "My song is in a beer."
Comments