A space for knowledge and resources in practicing life-affirming religions in all forms, DragonMarsh Apothecary and Teas, a hidden Riverside gem, sells eccentric materials for those who wish to experience a deep dive in their spirituality.
Maintaining the same space since the shop first opened in 1991, DragonMarsh is the second-longest family-owned and operated business in Riverside County, and currently the longest family-operated spiritual store in Southern California.
Upon entry, the shop, positioned conveniently downtown near the corner of University Avenue and Orange Street, proves to be more than just a wondrous array of wax candles, honeybush and other nontraditional-flavored teas. It's a jack-of-all-trades. At DragonMarsh, locals have access to gemstones, scented oils, literature and hand-crafted jewelry, all of which are ethically sourced from local vendors or made in-house.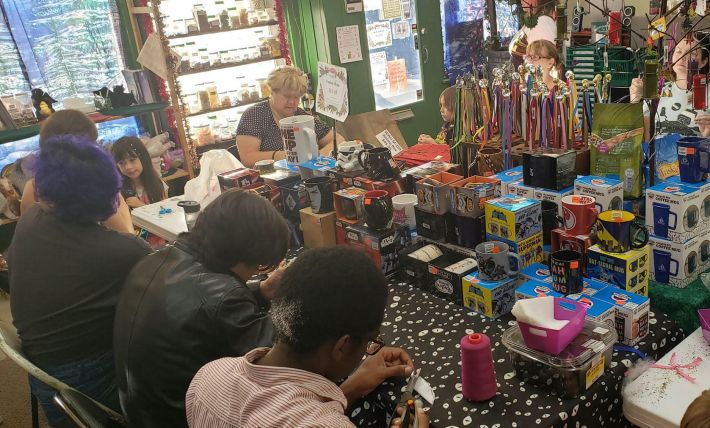 "Our bath salts — called Mystic Crystals — started because we could not get a straight answer about what oils were in other companies' salts," Misty Johnson, the shop's manager, said. "So we started blending our own using our brand, Herbs & Oils. This way, we know exactly what is in them and the quality of the ingredients."
Johnson, who has been active in her position the past decade, inherited leadership from her mother and stepfather, the original store owners. Along with providing ethical products, she said DragonMarsh is also dedicated to giving back to the community through volunteer events and fundraisers.
The mom and pop shop often seeks help from Girl Scouts in Riverside and local high school clubs to create toys for cat and pet owners, and it uses tarot reading fundraisers to support city nonprofits, like the Mary S. Roberts Pet Adoption Center. Next month, DragonMarsh will host its 13th annual Marshmallow Peep Show at the new Main Library, a free springtime event for Riversiders.
Community involvement like this, Johnson said, is a staple for the store's revenue.
"Little single, family-owned shops and restaurants are being pushed out by the big corporate stores. It is hard to compete with them. We fight back by having quality items, handcrafted and custom items, local artisan items, and the best customer service. Shop small stores because we care about you," she said.
At DragonMarsh, customers are met with an energy that is comforting and brings with it a sense of familiarity. The warm welcomes are typically accompanied by Pepper Jade, the shop's family-friendly cat.
"Working at DragonMarsh is nothing less than caring, welcoming, and accepting, both as an employee and customer," Ariel Sayas, one of the store's employees, said.
Comments