Sinking pirate ships, haunted carnivals, and thousands of twinkling lights are scattered across Riverside attracting thousands of visitors. These light and music displays are being set up outside of homes for the community to visit and enjoy. Be sure to put on your pajamas, grab your popcorn, and check out some of these fun displays:
Wood Streets – Corner of Magnolia Avenue and Chapman Place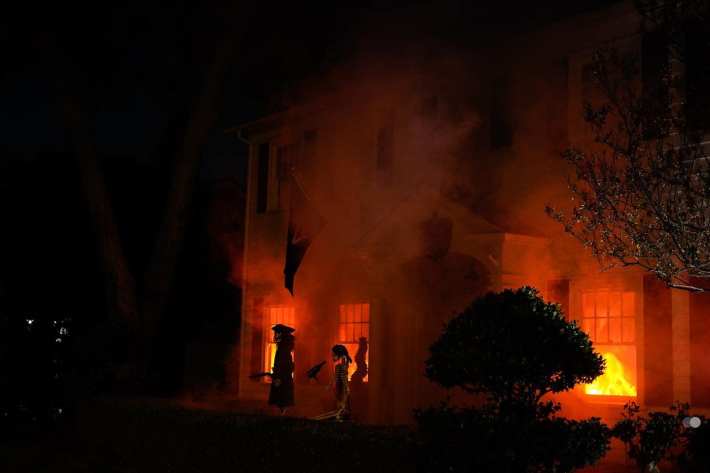 The home appears to be on fire with pirates raiding to find the buried treasure. The display is so realistic that annually the fire department receives calls to the home.
Wood Streets – 3980 Bandini Avenue
The Reichland Asylum Haunted House returns to Riverside with a new storyline and added features throughout the season. This display was at Midsummer Scream Hall of Shadows in Long Beach this year. This display is for the brave at heart.
Orangecrest – 8381 Deercreek Drive
With a choregraphed light display to music voted by the public, this show is sure to spark the excitement of visitors. Be sure to arrive early to find parking in the local neighborhood. The show is put on by Xtreme Light Displays and operates Friday and Saturday from 7:00 PM to Midnight and Sunday from 7:00 – 10:00 PM.
Magnolia Center – El Padro Manor, El Hijo Street Between Magnolia and Arlington
Haunted CarnEvil display with spooky clowns and entrancing lights is sure to please (and spook) all ages!
La Sierra – 5089 Bellamy Place
Thrilling decorations and Nightmare Before Christmas inflatables make this house a local hit! This home is not-so-scary and perfect for children to enjoy. The lightshow and music operate from 7:00 to 10:00 PM.
Comments