Ninety-five degrees and light winds are what the competitors had to work with on a beautiful day in Riverside's Fairmount Park, which was again the host of this year's Riverside Regatta.
The regatta, an annual fundraiser for the Riverside Community Sailing Program, was led by 83-year-old founder and instructor Lanny Coon and event organizer and sailing booster Linda Lawyer. This year's race was smaller than in previous years, the first held since Covid.
"We couldn't get everyone together in time to run the big celebration we normally have," said Coon. Normally, several members of the City Council participate, and there would be up to three races with five to eight boats each. This year, the regatta consisted of two races, one for adults and one for youth, with four boats each. With winds on the lake light and not in the sailors' favor Saturday, each race took about an hour.
Even with two years downtime, Lawyer managed to secure boat sponsorships from the Riverside East Rotary, the Optimist Club, the Arrowhead Sail & Power Squadron and the Downtown Area Neighborhood Alliance. The funds raised from regatta help to offset the program's operating costs and keep the price of lessons at $120 per student for five days of lessons.
Ward Seven Councilmember Steve Hemenway, who had only sailed once before – a 30-minute crash course on Thursday – arrived at Lake Evans smiling and ready to compete. "The teachers here are phenomenal," said Hemenway. "Lanny belongs in the Hall of Fame. He's a phenomenal racer, and he taught me the ropes."
Coon was equally admiring of the Councilmember. "He was amazing! I don't think I've seen anyone catch on faster." The winner of the adult race was Sarah Gediman from the Arrowhead Sail and Power Squadron.
Though Hemenway ultimately failed in a valiant attempt to overtake another sailboat for second place, he was still smiling as he crossed the finish line. "I was just glad I didn't end up in the lake," he said, laughing. "That was my goal, not to end up upside down in the lake."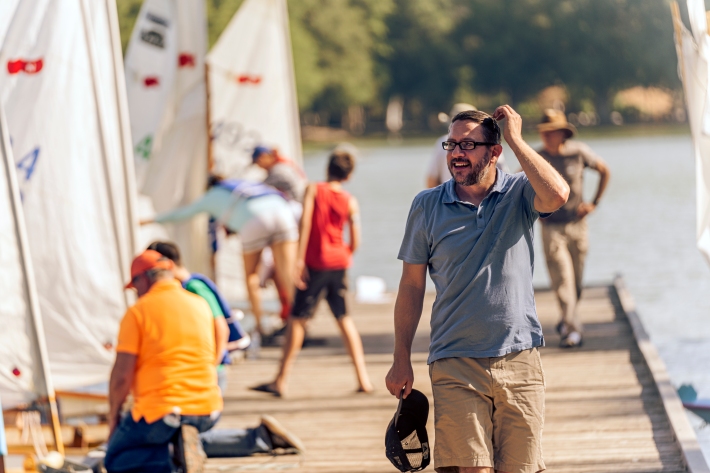 In addition to being one of the founders of the regatta, Coon instructs kids and adults in the basics of sailing a boat, working up to teaching them racing techniques. Kids' lessons are held Monday through Friday, from 9:00 a.m. to 1:00 p.m., and are offered in beginners, intermediate and advanced levels, one level per week. Skills taught in the beginner class include working as a team, problem-solving, how to put a boat in the water and get it back on the dock. The intermediate class learns how to tie knots, pilot the boat, and navigate. Advanced sailors are taught racing rules and tactics.
Though sailing lessons are fully booked this year, Lawyer says potential sailors can find out more by visiting their website at www.riversidesailing.org.
Comments