Residents of the Downtown and Northside neighborhoods shared varying ideas and concerns about the city to Mayor Patricia Lock Dawson during the eighth stop of her 2022 Big Tent Tour across Riverside Saturday morning.
The outdoor meeting, held at the new Main Library, drew approximately 30 residents, some who said they lived in Riverside their entire lives. From 9:30 a.m. to 11 a.m. they took turns speaking to what they felt was working in the city, what wasn't working, and proposed solutions to those concerns.
"We have such a great community, with so many resources," said Sue Mitchell, a resident from Downtown. "We have an impressive city that's just growing in partnerships."
Much of the other positive feedback centered on the tangible things Riverside offers to its residents.
A woman representing Downtown praised the improvements made to increase walkability in the  neighborhood and acknowledged installment of the The Cheech Marin Center for Chicano Art, Culture & Industry. Another pointed out the city's historic architecture, while an elderly lady stood up to commend city resources and police officers. One man was proud of the volunteer efforts being made at the local Habitat for Humanity.
Residents of Northside had similar sentiments. One woman shared her excitement for Riverside's "outflow of farms" and a young woman acknowledged community groups and advocates for their work in addressing local challenges. Another man pointed out a hopeful change in city politics.
"Riverside elections are more in tune with the needs of the community as a whole," he said. "The city government is equally more responsive and representative."
Feedback from the public was facilitated by the mayor's liaison who said the meeting was designed for "listening, sharing and learning." The session was also joined by members from the mayor's office, Councilmember Erin Edwards who serves Ward 1, Lt. Bryan Crawford of the Riverside Police Department, and former Riverside Mayor Ron Loveridge, who gave opening remarks before Lock Dawson's welcome speech.
In his speech, Loveridge, who also served as a councilmember for Ward 1 for 14 years and has remained a Downtown Riverside resident for nearly 44 years, said a mayor's focus on neighborhoods is exceptional work, saying they're a testament of city services and quality of life.
He added that he's continuing to work with Lock Dawson in her efforts to revamp the Santa Ana River bottom.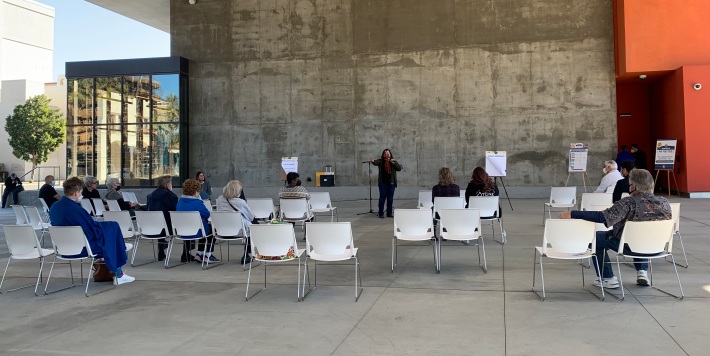 General feedback from the public about what isn't working in Riverside focused heavily on environmental factors, homelessness, and specific city projects. There were no concerns about crime or public safety made.
One woman representing Downtown expressed concerns about the lack of city parking. She said the city "should not knock down parking structures without creating more lots," and added that her friends refuse to visit the downtown area. Others complained of trash, both on the streets and freeways. A different woman, who said she lived in Downtown over 40 years, said Fairmount Park is in need of a clean-up.
In response to the concerns regarding trash Crawford said the police department's Public Safety and Engagement Teams are there to monitor the landscapes and keep Riverside clean, but that the city must wait for compliance with CalTrans to clean up the 91-Freeway.
"We're out there working tirelessly, but there's challenges," Crawford said of the city's inability to act on these concerns swiftly. "There's a lot of red tape coming from the federal level."
The topic of homelessness opened up a conversation about available resources and the city's lack of housing. One woman said most unhoused individuals know there are services available but are unaware of who to ask for help. She suggested the city implement a 24-hour hotline. Another woman said the problem she sees is how the city remains "over-sourced in the increase of expensive housing and under-resourced in housing that's actually affordable."
One man, of Northside, said housing units "shouldn't be built for specific groups of people." He was referring to a new LGBTQ+ housing complex for youth living with HIV or AIDS located near Downtown.
Mitchell, the resident who delighted in city partnerships, added that Riverside needs to create an immediate solution to the threat fires in the Santa Ana River bottom impose on her neighborhood. She claimed unhoused folks living in the area are igniting those fires every morning and evening.
"What are you gonna tell everybody when your historic Riverside burns down?" Mitchell said.
Other residents expressed concerns over the progress and effectiveness of the Riverside Gateway Parks project, which aims to focus on the Santa Ana River trail, and the Northside Specific Plan which was created to boost development in the neighborhood. Some worried whether the latter would impose a large enough impact on the community, with one resident saying he felt there were instances that made others and himself question their support and involvement with the project.
"We would very much be even further disappointed and turned off by the city government if the community comes out, gives their engagement, and it's again ignored," he said.
Residents were creative, however, in their approach to provide solutions to the problems they found.
One young woman, who had praised the work of local advocates, suggested the city create what she called, a "one-stop-shop," to provide services to those in need in one direct place. She said the center could include case managers, mental health professionals and other resources that specifically tackle institutional barriers.
Fernando Herrera, a resident who lives in the Eastside neighborhood, provided several suggestions. As environmental solutions, he proposed the city partner with the City of Jurupa Valley to protect the Santa Ana River bottom and improve greenscape throughout the city by replacing old trees.
Herrera, who has a brother currently attending UC Riverside, added that the city should provide better connectivity and opportunities between the university and Downtown. This way, he said, students can be more involved with what is happening.
Lock Dawson acknowledged the positive and negative feedback from residents by closing with remarks to specifically address the meeting's greatest takeaway: homelessness and housing. As part of the Big City Mayors coalition, Lock Dawson pointed out that she's working with Gov. Gavin Newsom to help widen the accessibility of resources to individuals in need.
The mayor also assured residents that she was working on getting a grant implemented that would deter formerly incarcerated and justice-involved individuals from roaming the streets and instead lead them to services.
"We're here to serve you, and that's our purpose," Lock Dawson said.
For the second and last meeting this month Lock Dawson will meet on Feb. 26 with the Magnolia neighborhood at the Riverside Adult School RUSD Board Room. The final stop on her tour will be held June 11, 2022 at Castle Park in Riverside.
Comments