Riverside's public art scene has exploded with new murals in recent years. The latest, Riverside artist Denise Silva's Grandmothers, is a bold addition worth visiting–at five different locations.
Grandmothers is anchored on the west-facing wall of the Main Library (3900 Mission Inn Ave.) downtown, next to Tio's Tacos. Silva's 40-foot mural, painted with assistance from artists Amparo Chi, Jeshua V, and Solomon Cortes, represents the indigenous peoples of this area:
Tongva, people of the Earth,
Luiseño, people of the West,
Cahuilla, people of the desert,
Serrano, people of the pines.
Grandmothers doesn't just stop downtown; four smaller grandmothers are printed on metal and installed at the Arlanza, La Sierra, Orange Terrace, and Casa Blanca branch libraries. Silva says the colors of the murals represent "our collective skin color as well as our Inland Empire landscape." She continues, "The murals are "totems – spiritual guardians – for those who respect the divine feminine and ultimately, Mother Earth, who is our oldest ancestor."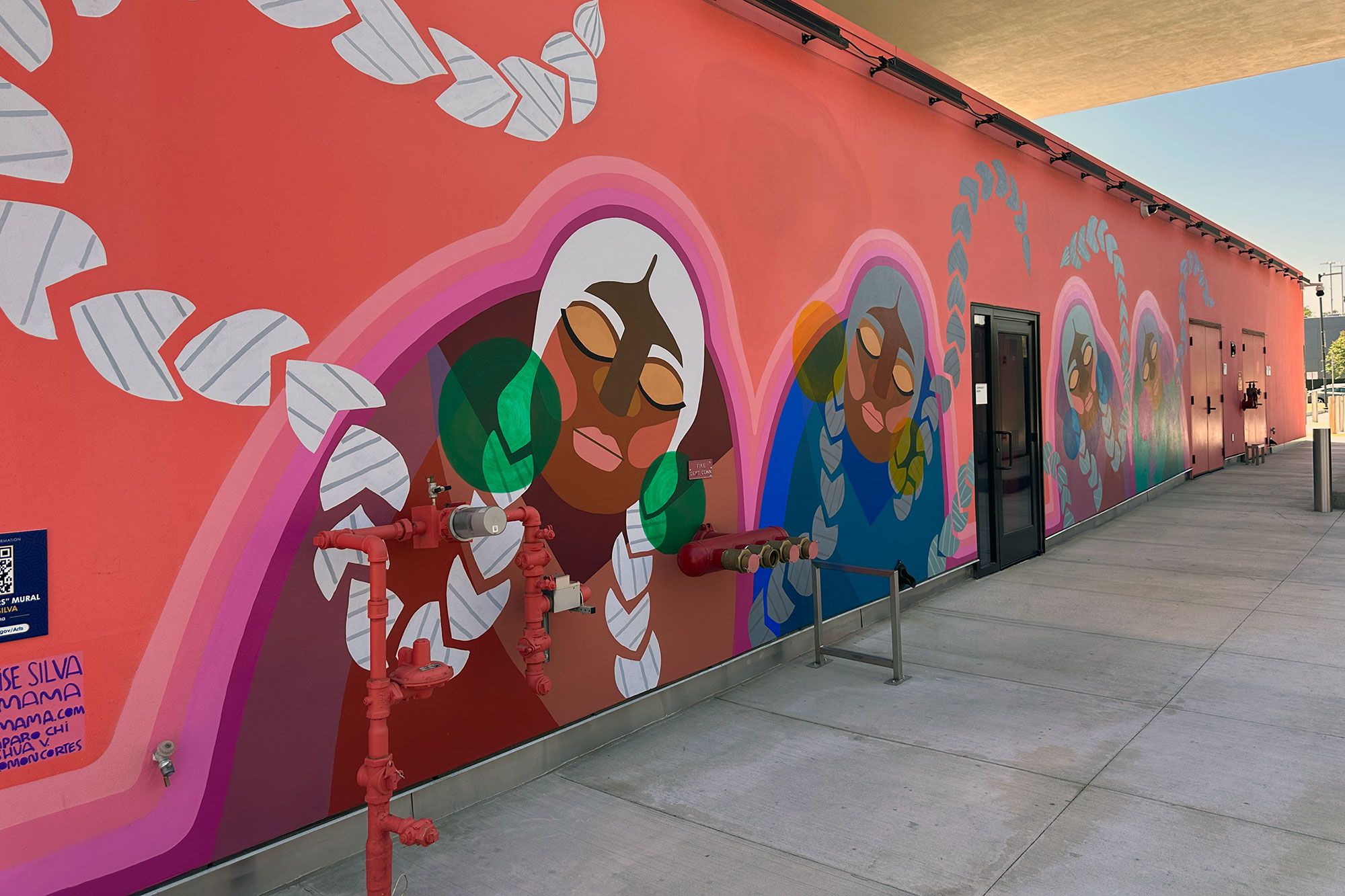 Silva was born in East L.A. and raised in Riverside. She studied design and illustration at California State University, Los Angeles, and works from her home studio in Riverside. "Creating this mural for my city was divinely inspired, and I can't describe the feeling I get when I drive past the library and see our native grandmothers shining in the sun. So much love and intention went into this project, from researching and honoring each indigenous tribe to creating the art, painting the mural with my community, and designing coloring pages as a resource for teachers and homeschooling parents. I hope the mural inspires others. I hope our community can see themselves and their loved ones in the art and that each person will experience a spark of ancestral memory," says Silva.
"The grandmothers will serve as a reminder for all to see whose land they are standing on, to step with mindfulness, to step with care," Silva adds, "Standing under each grandmother, pause to take a breath, give thanks and reset your nervous system. As you look up at them, you will feel their protection, their fierce and tender love."
"The Arts & Cultural Affairs Division's mission is inclusion through dynamic and diverse arts, culture, and entertainment," said Margie Haupt, the City's Arts and Cultural Affairs Manager. "We enrich, elevate and motivate our community and its visitors, so we and the Library Department were happy to support this mural."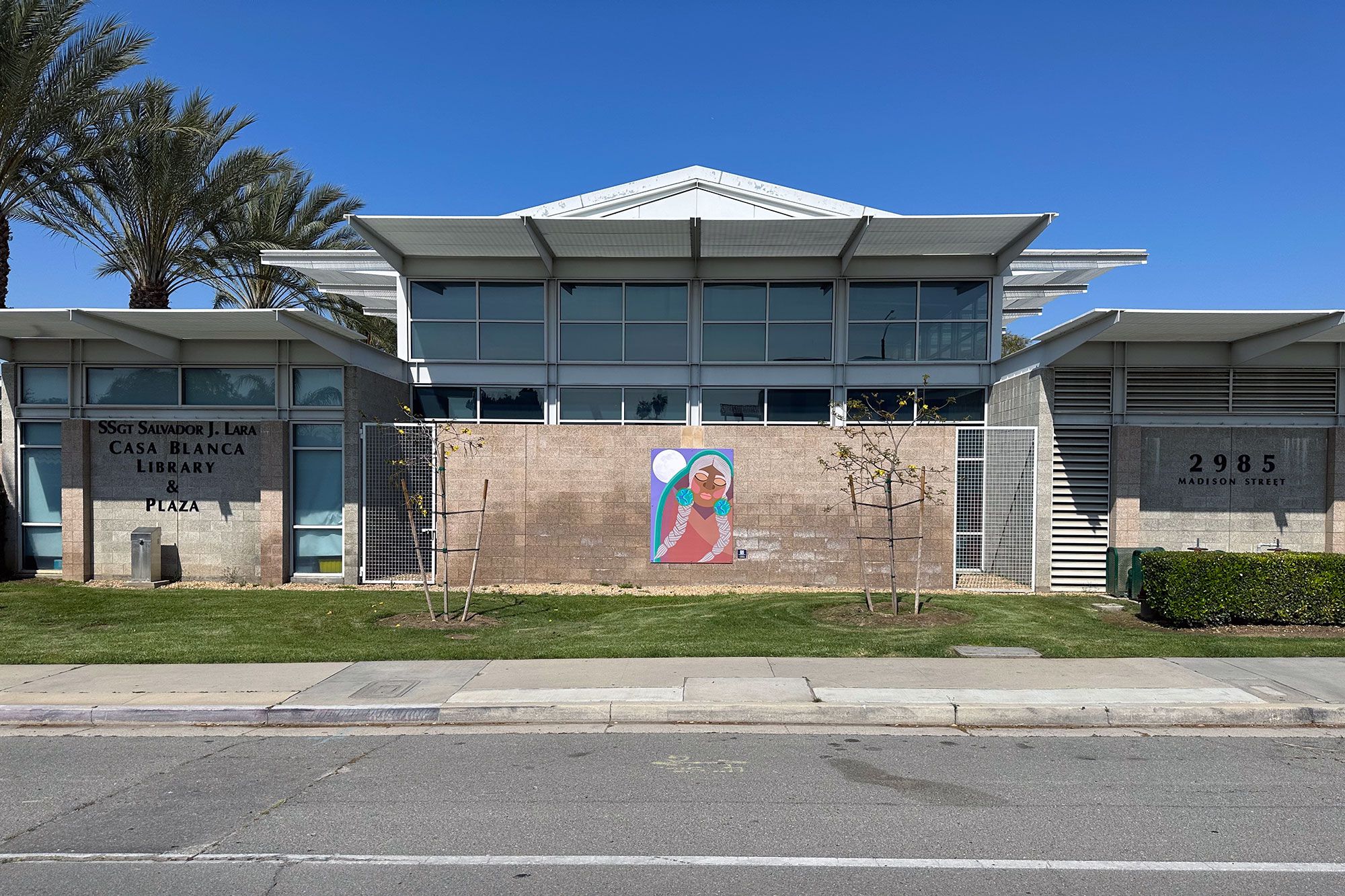 Where to visit Grandmothers:
Main Library 3900 Mission Inn Ave. Riverside, CA 92501
La Sierra Library 4600 La Sierra Avenue Riverside, CA 92505
Arlanza Library 8267 Philbin Ave, Riverside, CA 92503
Orange Terrace Library 20010-B Orange Terrace Pkwy Riverside, CA 92508
Casa Blanca Library 2985 Madison St, Riverside, CA 92504
See more of Silva's work at pearmama.com.
Comments