This is a sponsored story funded by Altura Credit Union.
Altura Credit Union is known for supporting local businesses within the Inland Empire. With this year's Small Business Empowerment Grant Program, Altura sets the standard for corporations giving back to the community.
The Small Business Empowerment Grant was first launched in 2020 amidst the global pandemic. While not intended to be a COVID-19 relief program, the perfectly timed launch allowed Altura Credit Union to support small businesses during a time of great need.
The grants, which equaled to $10,000 each, were funded by donors and gifted to a total of 10 local businesses. The grant program's largest donor, The Altura Foundation, leads the charge in re-launching the Small Business Empowerment Grant program this year.
Jennifer Binkley-Heiting, President and CEO of Altura Credit Union, notes that the grant program was never meant to be solely a COVID-19 relief fund. While helping businesses through the pandemic was the initial goal, she hopes the program will continue to evolve.
"It's not meant to be for businesses that are in trouble," she said. "It's for established businesses that are looking to either expand out a product line, improve the community or do something where they can add value."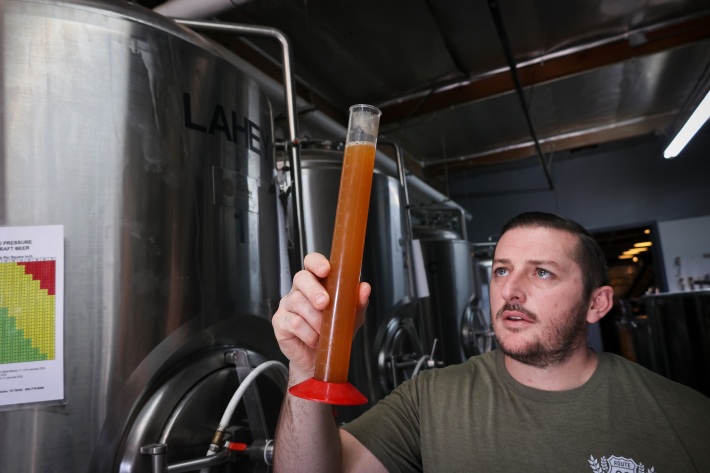 For one business in particular, receiving a grant was pivotal. Riverside's Route 30 Brewing Company had just opened a second location downtown when the pandemic began. Eric Brummell, Co-Founder of Route 30 Brewing Company, remembers first hearing about the Altura Credit Union grant opportunity. As an Altura member, he received an email inviting him to apply and after submitting a quick video, Route 30 Brewing was accepted.
While many businesses struggled during 2020, Route 30 Brewing was mostly concerned with losing their newly opened downtown location.
"I know everyone had a hard time, but we don't serve food. So, we were mandated to be closed most of the time, because we couldn't accommodate the food regulation that the state had in place," Eric said. "That was pretty rough, and we were trying to be the good guys. You know, we abided by all the guidelines."
Eric and Route 30 Brewing Company Co-Founder, Tom Creely, were forced to lay-off six employees before receiving the Small Business Empowerment Grant. Once the grant funds arrived, the business owners allocated the funds towards their next big mounting pressure.
"The amount of the grant was enough to make rent for two months downtown," Eric said. "It is part of the reason we still have our downtown location."
Eric also remembers that Altura representatives were involved in the grant receival process every step of the way, making them stand out as a corporation that truly cares.
"The president [of Altura] came out when we got the grant. Like, we got to meet all the bigwigs! How great," Eric said. "The fact that they focus so locally, on the little guys, is pretty cool… We're in their backyard. They're in ours. They recognized that we needed help at the time, and it was a great deal of help for sure."
For Altura Credit Union, it is stories like Route 30 Brewing Company's that have driven them to re-launch the grant program for 2022.
"It's about the relationships we make, not only between Altura and these businesses, but between the businesses themselves and our community members," Binkley-Heiting said.
For businesses that are a member of Altura Credit Union, applications for the 2022 grant program are open and can be found at alturacu.com/businessgrant.
In addition to applications opening, Altura Credit Union is partnering with Route 30 Brewing Company to celebrate the program's re-launching. On October 20, the beer company will host an "Altura Night" at their downtown location off of Mission Inn Ave. During the festivities, Route 30 Brewing will be releasing a new co-branded brew, called "Hello Neighbor." Oranges for the beer will be sourced locally, and a portion of all sales will go back to The Altura Foundation to fund future small business grants.
The celebratory night will further symbolize the power of a supportive community on every level. Altura Credit Union strives to continue offering their support through the Small Business Empowerment Grant Program now, and for years to come.
"Small Businesses are what makes our communities special and keep them thriving," said Binkley-Heiting. "That's why it's so important that we support them and invest back into their success. Altura commits to being a good business partner and neighbor to these businesses."
Comments