Local artist and Tio's Tacos owner Martin Sanchez has created Riverside's very own "Oz," where a horse of a different color might be the most normal thing on the property.
Walking into Tio's gives you the feeling you're not in Riverside anymore. Which is exactly what Sanchez wanted. An escape from the outside world and the towering buildings in the city. Sitting at one of the tables at the back of the garden, Sanchez and teenaged daughter Maitin, who is helping translate, offer me an agua fresca before settling in to chat.
It takes no more than a glance to see that this is a passion project of Sanchez's. Everything is art, from the mosaic tile on the ground that Sanchez laid by hand to the plants that he says remind him of his mother. Starting Tio's in 1990, Sanchez set out to create a unique eating experience.
"So, this is my dream come true," Sanchez says, happily.
The city of Riverside offered their support to expanding Sanchez's dream. The city commissioned him to create the art installation piece known as "Mariposa Alley" in 2019 and in 2021, the Riverside Public Library opened its new Main Branch next door to Tio's, putting in a seating area outside so patrons have an unobstructed view of the restaurant. In return, Sanchez installed a sculpture of a plane on the restaurant's roof that can be seen from the upper level of the library.
Sanchez saw the seating area as thanks for all his hard work. "It's the greatest gift," he said.
The support continues with the opening of the Chicano art museum, the Cheech Marin Center for Chicano Art & Culture. Sanchez specifically made some pieces for the opening of the museum, including a group of skeleton mariachis which will be on display along with pieces from Cheech Marin's personal collection of Chicano art.
Sanchez's advice for artists getting started is to "ask yourself what makes you the happiest and what's your passion." This is because 99% of the people are in the wrong job, he said, and end up more stressed than they should. If everyone did what they're most passionate about they'll have more time for happiness and doing things that benefitted them, Maitin translated.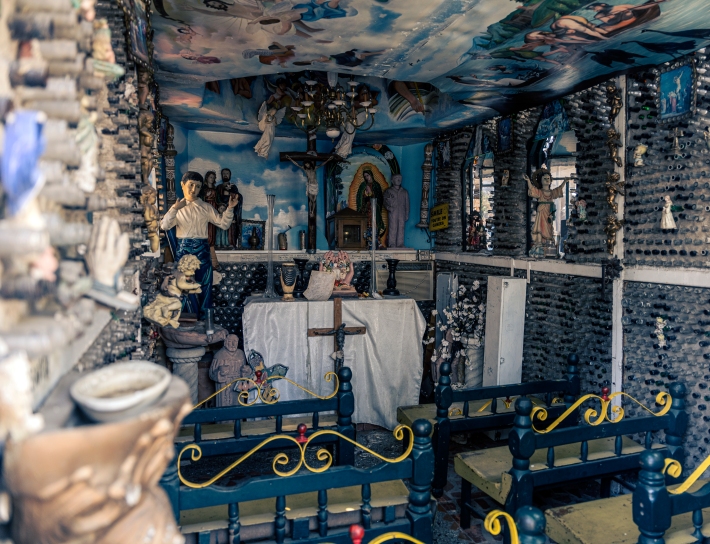 Family is the backbone of Sanchez' restaurant, where the saying, "mi casa es su casa" can be seen on everything from the printed receipts to the tiles on the mosaic table tops.
When asked which of his art pieces is his favorite, Sanchez gestures towards Maitin, and smiles, "My daughters, my family, everything! The big, the small, I put my heart, my life — so I love everything because when I make something I put my heart."
While some dads ask their kids to pass them the wrench while they work on a car, Sanchez would have his daughters pass him tools while he built his sculptures. "Throughout my whole childhood, whenever he was working, with my sisters as well, he would have us beside him [and] just like 'Oh, pass me the […] I don't know, the hammer!'" Maitin recalls with a laugh.
Following in her dad's footsteps, Maitin is dabbling in painting and has made her own contribution to the garden, with a sculpture of a turtle made of rocks that sits on the back patio.
Food, family and art come together at Tio's, where the flying monkeys are just stuffed animals hanging from the trees, and though there's no place like home, Cheech Marin did enjoy a bowl of homemade menudo here.
Comments