The Riverside Public Library's annual Summer Reading Program is well underway, with a full slate of in-person activities to welcome back children, teens and adults who have been limited to virtual library programs since Covid-19 measures closed the libraries in March 2020.
Joseph Garcia, the library's summer reading program coordinator, said the in-person programming includes a variety of presenters including puppeteers, magicians, reptile shows ("that's a big one"), craft activities, and the ever-popular Arty Loon, a performer whose variety show features skits, music, comedy and lots of audience participation.
"We're really excited that everyone's coming back," said Garcia, who's based at the Arlanza branch. And it appears their patrons are equally enthusiastic. "We've already surpassed all of last year's signups (from the virtual program) in one week."
Garcia says the two-year hiatus was hard on the library staff, but in some ways, it was time well spent. "It was difficult, but we learned a lot, and we've made a lot of changes along the way."
Garcia said the Summer Reading Program team travels throughout the city, stopping at two library branches per day, Tuesday through Friday, from 11:00 a.m. to 12:30 p.m., with lunch provided for kids 18 and under. But teens and adults can also take part in the program, signing up through the city's website and tracking the books they've read, earning "badges" along the way. Kids who sign up on the website and track their reading receive gift cards for a free book from Barnes & Noble, mini-golf games, and meals at Spaghetti Factory, Wendy's, Raising Cane, Chick-fil-A, and other prizes. Adults can get gift cards from local eateries including California Pizza Kitchen, the Mission Inn, and Yard House.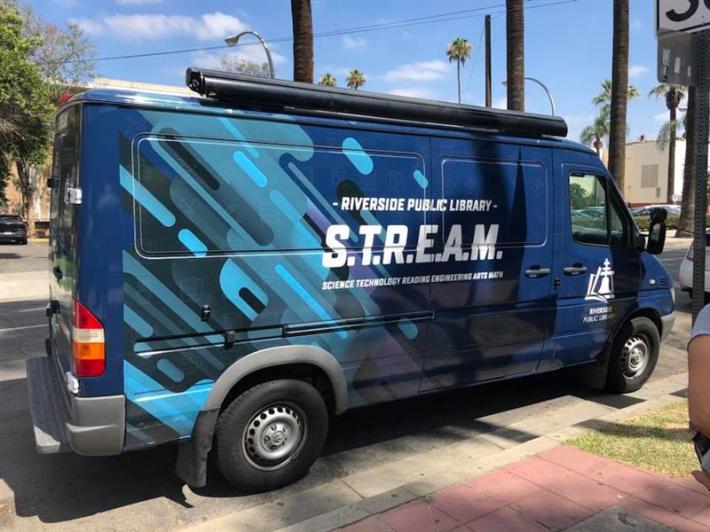 Other offerings from the RPL include "pop-up park visits" from the STREAM (science, technology, reading, engineering, arts and math) Mobile, a variation on the STEM model that adds reading and arts to the mix. The pop-ups feature Storytime Walks – picture books illustrated on boards that kids walk along a path to read – and other activities. Lunch is also offered at the pop-ups for kids 18 years and under.
The program began on May 31 and runs through July 29 for children and August 1 for adults. More information can be found at the city's Summer Reading Program website.
Comments