Schools like CSDR are absolutely running away with the competition, while others like CBU tally both wins and losses. UCR is struggling to get any momentum going across all fall sports.
The California School for the Deaf Riverside had a historic season in their school's history last year finishing with a record of 12 wins and one loss. This year, they have the goal of improving on their already impressive record from last season. They are well on their way to recreate last season's magic as the high school team currently has a record of nine wins and zero losses, a perfect unbeaten record.
CBU Women's soccer is currently on a win as they're having a better season than last year. They have a good record in the WAC at eight wins, three losses and five draws as well beating their last opponents by six goals. They look to close out the season strong when they play against New Mexico State, just before starting the quarterfinals of the WAC on the 2nd of Nov.
On the other side of the pitch, CBU Men's soccer is also winning at the moment with their 3-game unbeaten streak. However, the team does need improvements as their overall record doesn't look that good. Whether it is from poor coaching, lack of focus or the defensive errors they've been committing all season long, they need to switch it up and finish the season strong with their last three remaining games against UNLV, Utah Tech and Utah Valley, before they start the Western Athletic Conference (WAC) Tournament on Nov. 9th.
To round off CBU Sports, the Women's Volleyball team desperately needs improvements. They have a record of 8-12 which isn't bad, they're almost at .500%-win ratio. But when you consider they were 13-11 last season, it paints the picture. This season the team already has more losses than the previous one while being five wins below 13. The Volleyball team will hope to improve in the next upcoming games against Utah Tech on the 3rd of Nov., Southern Utah on the 5th, Utah Valley on the 10th and finally the last game of the season against Seattle U on the 12th. If they want to carry any momentum before they play in the Volleyball WAC tournament, they have to start bagging in some positive results.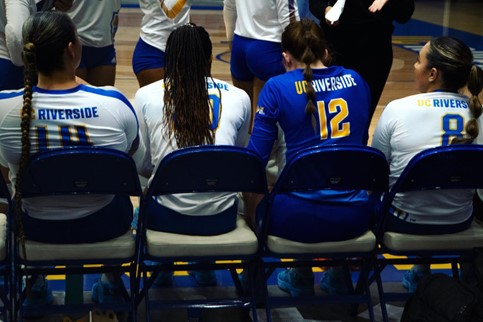 For University of California Riverside, they're having a season to forget all around with their Fall sports teams. Both Women's and Men's soccer and the Women's volleyball team are having an absolute shocker of a season. All three sports programs are in desperate need of improvement. The Men's team is currently on a record of five wins, seven losses and four ties. With one game left in their season, they will see this as a big disappointment as they look to regroup for next season.
UCR Women's soccer is in an even worse state than the Men. They are on a record of two wins, eight losses and seven draws, with one game left, they'll want to end the season on a win and go back to the drawing board and think of a new strategy for next season. With a four-game losing streak, a win in their last game would be a good consolation prize.
Women's Volleyball is not any better than the other two teams at a record of four wins and 17 losses. They're also on a four-game losing streak, however, they have eight games remaining this season with the upcoming teams being UC Irvine on the 4th, UC San Diego on the 5th and CSU Bakersfield on the 10th. However, what is certain is that the Women's volleyball team will finish with a losing record overall and they can only hope to finish out their remaining games with a better record than 4-17.
Comments