Details
Where is the monument located? On the Main Street Mall in between University Ave and 9th St. Use this address for your maps app: 3824 Main St, Riverside, CA 92501
Who can install padlocks? Anyone! Padlocks should soon be available for purchase at Main Street retailers. In the meantime, any padlocks can be placed on the monument.
---
Riversiders celebrated the installation of the new Lock in Your Love monument on Main St. The monument is an interactive sculpture built to hold thousands of padlocks and creates an Instagram-worthy photo destination and a special Riverside connection for Koreans visiting the Dosan Ahn Chang-Ho Memorial just across University Avenue.
Inspired by love lock destinations popular in South Korea to symbolize an unbreakable bond between couples, love for friends and family, and hope for those who need it, the project was coordinated and paid for by volunteer efforts from the Leadership Riverside Class of 2022.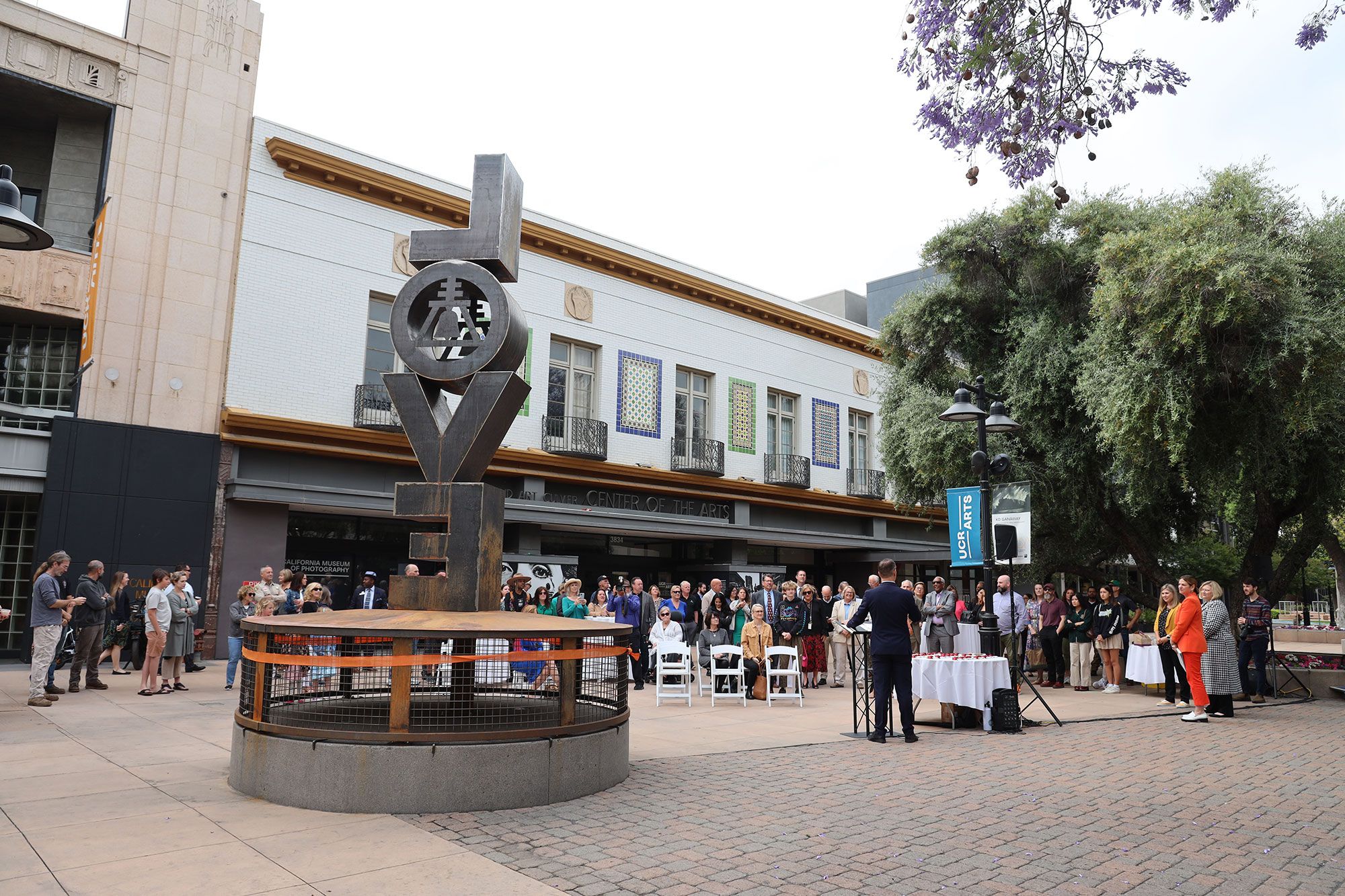 "We wanted to find a way to bring people together and help breathe new life into Downtown Riverside and the businesses there," said Kyla Brown, Director of Parks for Riverside County and leader of the volunteer team, "The love lock sculpture is the perfect way to draw people together in their shared love for Riverside. Our hope is that residents and visitors will feel inspired, hopeful, and more connected to this beautiful city."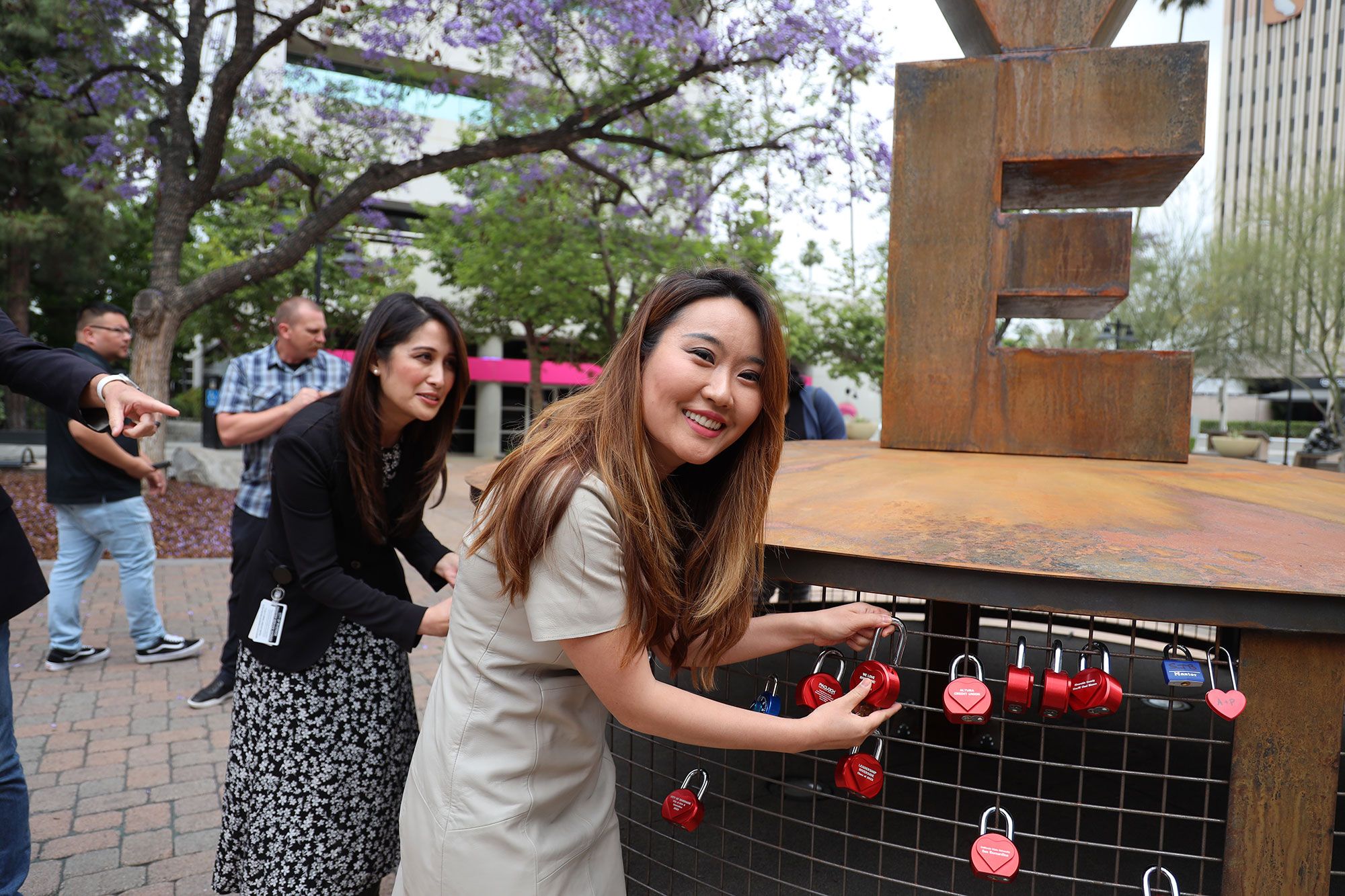 Lock in Your Love was designed and fabricated by the local artisans of Alderette Designs, creators of the popular Citrus Swing project on Market Street. "I'm proud that there is 17 feet of love standing high in Riverside, and even prouder that our team put it there."
The monument is made of COR-TEN steel, also known as weathering steel, a metal alloy developed to eliminate the need for painting. Over time, the monument will form a rust-like patina. "COR-TEN is made to stand strong and looks better over the tests of time, just like love!" said Alderette with a cheesy grin.
---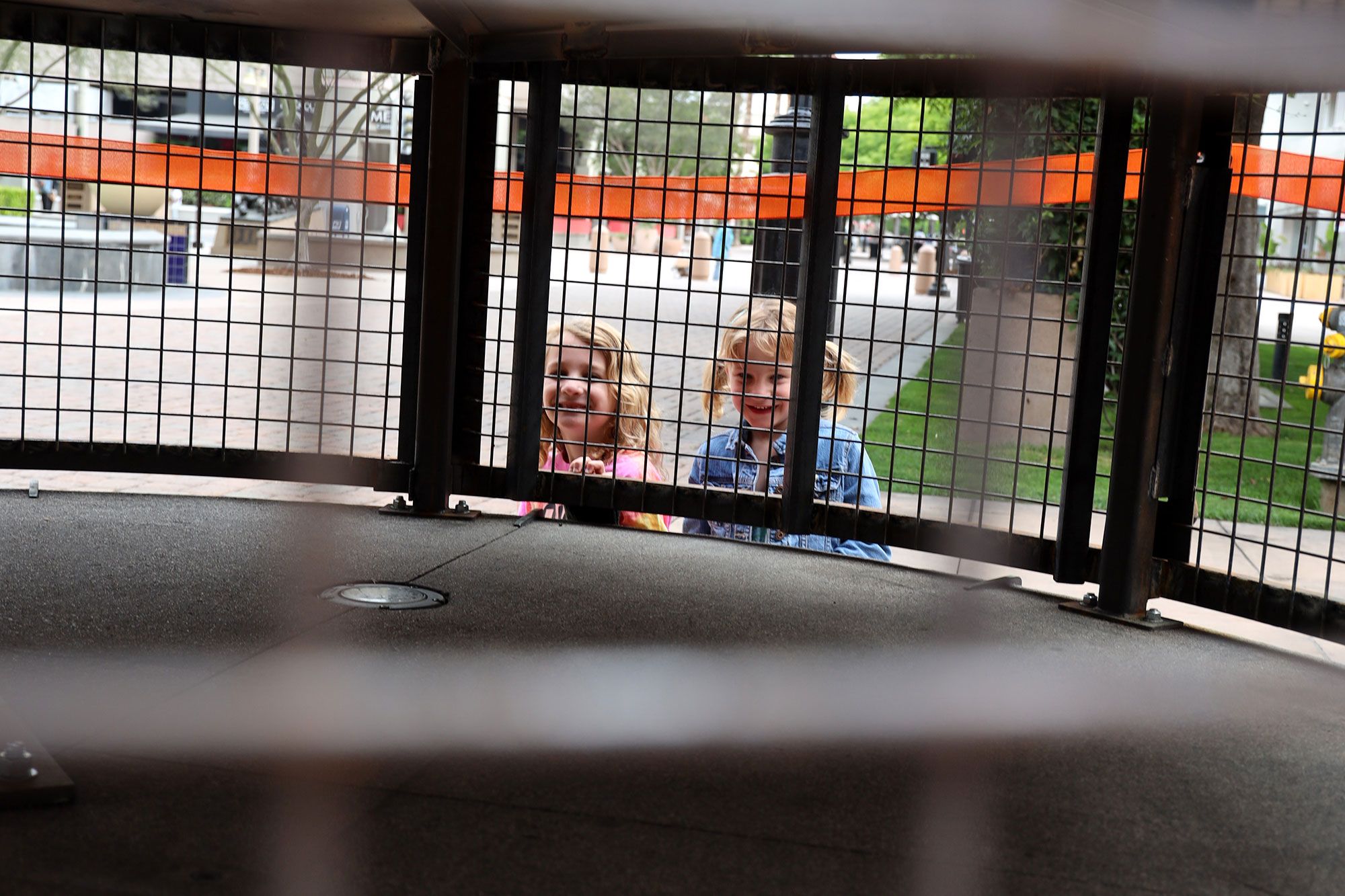 Project Sponsors
Monument Sponsors
Leadership Riverside Class of 2022
Riverside County Sheriff Chad Bianco
Altura Credit Union
Dr. Ron & Cyndi Pardee
Pedestal Sponsors
Pacific Lock Company
Alderette Designs
Lock Sponsors
Dr. Victoria Brodie, Chair of the Best Class Ever (2022)
Dr. FeRita P. Carter, Leadership Riverside Class of 2022
California State University, San Bernardino
Riverside County District Attorney Mike Hestrin
Imperial Hardware Lofts
Christopher Lynch, Leadership Riverside Class of 2022
Riverside Police Department
City of Riverside
Greater Riverside Chambers of Commerce & Foundation
Jaylood & Judy Teunissen
Link Sponsors
Southern California Edison Co.
Amy Hoyt, Leadership Riverside Class of 2022
Neighborhood Healthcare
Project Supporters
Class of 2022 Members: Anamaria Bearden, Kyla Brown, Sophia Choi, Mark Cloud, Bryan Crawford, Robin Duncan, Tracy Fisher, Michael Hadley, LaWayne Hearn, Elisa Laurel, Javier Krumm, & Justin Pardee
Stan & Jessica Morrison
Jeff & Dawn Van Wagenen
Matthew & Charity Schiller
Pick Group of Young Professionals
Cathy & Jay Jablonsky
Pacific Lock Company is a lock manufacturer based in California that designed and donated custom heart-shaped padlocks for the monument's launch.
Comments