A new monument, stamping the letters "L-O-V-E" seventeen feet up in the air on Main Street is coming soon to Downtown Riverside. Inspired by "love lock" destinations popular in South Korea to symbolize an unbreakable bond between couples, love for friends and family, and hope for those who need it.
The project will consist of a custom interactive sculpture to hold thousands of padlocks and is beings designed and fabricated by the local artisans of Alderette Designs, creators of the popular Citrus Swing project on Market Street. Lock in Your Love uses an existing pedestal to create an Instagram-worthy photo destination for locals, out of town guests, and a special Riverside connection for Koreans visiting the Dosan Ahn Chang-Ho Memorial just across University Avenue.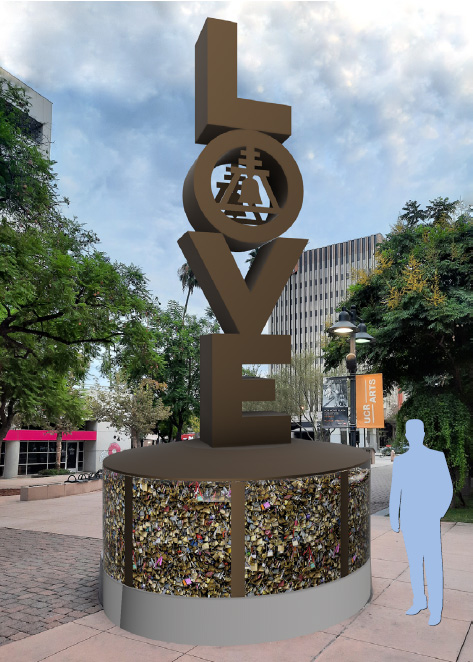 The monument project is spearheaded and coordinated by volunteer efforts from the Leadership Riverside Class of 2022. "Our group of leaders really wanted to find a way to bring people together and help breathe new life into Downtown Riverside and the businesses there," said Kyla Brown, Director of Parks for Riverside County and leader of the volunteer team, "The love lock sculpture is the perfect way to draw people together in their shared love for Riverside. Our hope is that residents and visitors will feel inspired, hopeful, and more connected to this beautiful city."
"I'm proud that there is going to be 17 feet of love standing high in Riverside, and even prouder that our team gets to put it there," said Rico Alderette, the artist responsible for the design and fabrication of the monument. The monument is made of COR-TEN steel, also known as weathering steel, a metal alloy developed to eliminate the need for painting. Over time, the monument will form a rust-like patina. "COR-TEN is made to stand strong and looks better over the tests of time, just like love!" said Alderette with a cheesy grin.
---
More information: To donate or learn more about the Lock in Your Love project, visit lovelocksriverside.com. To see more of Alderette Designs' work visit alderettedesigns.com.
Comments