By now, you might have heard about Cali Tardka, the Riverside home restaurant that's been making waves with their Punjabi-Indian cuisine. Over the past 12 months, the restaurant, and the family cooking behind the scenes, has been covered by Los Angeles news outlets NBC, ABC, KTLA, and Spectrum News. It's actually due to ABC's most recent coverage that I learned about Cali Tardka and the hours-long freeway treks customers are willing to take to get a taste of their food.
To me it seemed incredible. People driving from Tijuana and Las Vegas to Riverside for a to-go meal? I needed to learn more. So, seeing as how I live in the city, I decided to place an order. The only problem is, they're sold out for the day. I check if I can reserve a spot for the next day. Sold out.
I see in their Instagram Stories that they'll announce their next day's menu at 5 p.m. So I set a reminder for 4:55 p.m., and waited. Finally the alarm sounds, and I pounce on the "Order Online" button and proceed to order way too much food. Admittedly, I'd never tried Punjabi cuisine before but what better way to expose your taste buds to new things than with something that has so much hype.
I order the chicken tikka masala, butter chicken, samosas, and naan, and I'm not exaggerating when I say it's one of the most flavorful and delicious meals I've ever had, all housed within humble to-go containers. The Clare Boothe Luce quote, "Simplicity is the ultimate sophistication," comes to mind as I eat directly from the container. I think about nothing but the flavors and textures flooding my palate.
It now makes sense to me why Cali Tardka has garnered over 18K dedicated Instagram followers within a year, all constantly posting their meals and tagging the restaurant, giving it consistent exposure and introducing it to new customers from all over southern California.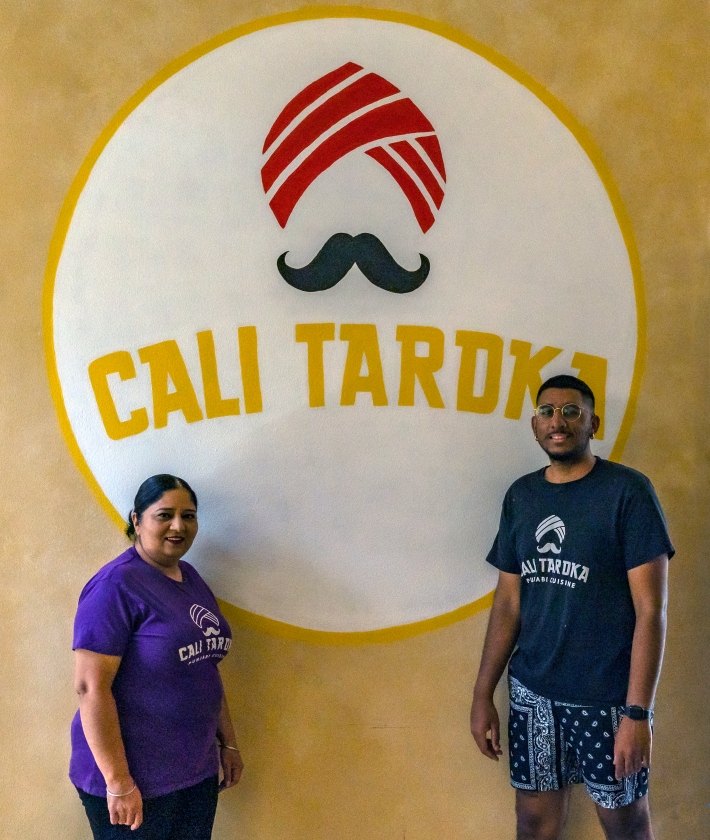 I wanted to get to the bottom of this mystery, so I reached out to Manav Sanghu, the young, impressive son of the kitchen superstar, Kimi Sanghu. Manav, a former college basketball player in his early 20s, was eager to chat and share his family's story from humble beginnings to newfound success. He explains how in 2019, his mother, Kimi, began cooking as a side gig after a long day working at her full-time job. But everything changed during the pandemic, when the family decided to go all-in on the home restaurant, taking advantage of Riverside's Microenterprise Home Kitchen Permits. The program, which began in January 2019, allows residents of a private home to legally make and sell food to the public. With the launch of the restaurant, Manav left school and focused on marketing the business, creating Instagram and Tik Tok accounts and setting up their online, efficient ordering system. As the orders started coming in, Manav would find himself in the kitchen alongside his sister, Priya, a medical student, helping their mother cook for their loyal fans. Manav's father continued to work at his regular job but was available for grocery store runs when needed.
I ask if his mother ever gets burnt out. "My parents are both immigrants so they just have that mindset of working your ass off," he says. "I'll for sure need a break and she's [Kimi] just going. She's always the first one in the kitchen and the last one to leave. She's inspiring." His mother has also become a sort of local superstar; Kimi is frequently stopped by a fan of her food or a mom who wants advice on how to get her own home restaurant off the ground. While she appreciates the attention, it can feel a bit strange. "She loves it but at the same time she's not used to getting attention because she's literally just an immigrant mom. But now she's also a role model."
A burning question I have for Manav–what do his neighbors think about a restaurant operating from a house on their sleepy street near Orangecrest? "Our neighbors are super supportive," he says. "They're always showing love."
I wonder out loud to Manav how it feels to be many people's first experience with Punjabi cuisine, while admitting that that had been the case for me. "We try to stay as humble as possible but at the end of the day, it's awesome," he says, "The biggest thing is maintaining the quality. The food talks, not us."
Before we end the call, I ask what's next for Cali Tardka now with so many eyeballs on them, and whether their future is still in Riverside. "We want to own a brick and mortar and have multiple locations," he says, "But right now we have 30 families that need our help getting started with their own home kitchen permits, so we haven't yet planned out our future."
Follow @CaliTardka on Instagram to be up-to-date on their daily specials. And maybe set an alarm.
Comments