For the family on limited income with an autistic child, standing in line at a food pantry is sometimes one of the hardest things they will do all month. Then there is the older woman who finds it hard to walk to and from the food pantry with a box of fresh vegetables, so she often goes without. These and many others will now benefit from Project DoorDash, a new partnership between the national corporation DoorDash and the City of Riverside.
Riverside is the first city in the country which connects DoorDash with local food pantries through its Neighborhood Engagement Division to address food insecurity. City staff work with local food pantries who identify individuals and families in need of help with transportation and access to food. The Food Pantries then connects with DoorDash which assigns drivers to pick-up and deliver food boxes and bags similar to their commercial restaurant deliveries. DoorDash provides the driver as an in-kind gift.
"This program creates a more dignified pantry experience by reducing the stigma of seeking a helping hand, by increasing food security and by eliminating transportation barriers," said Mayor Patricia Lock Dawson during a joint press conference with partners DoorDash, Community Settlement Association, Lighthouse of Hope – which operate food pantries.
The partners have delivered 3,000 meals in Riverside since the inception of the local program. In the Inland Southern California region there are roughly 400,00 people in Riverside and San Bernardino counties experiencing food insecurity.
"As we have continued to meet the needs of our community where they are, the pandemic further increased the challenges within our most vulnerable populations in meeting basic food needs," said Ninfa Delgado, Vice President of Operations/COO of Riverside Community Health Foundation, speaking on behalf of Community Settlement Association. "We are excited to be a part of this effort that includes using local delivery to expand our reach and ability to serve community members who do not have the ability to come to our location to get the assistance they need."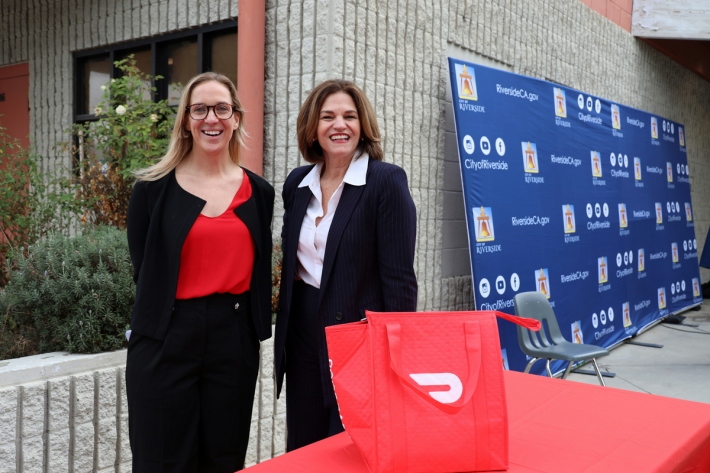 Catlin Gillis, DoorDash government and non-profit manager, explained the company's initiative to empower food banks, food pantries, community-based organizations, and now cities to leverage DoorDash's logistics to carry out their mission. Overall, Project DASH has powered more than 3 million deliveries of an estimated 50 million meals across the U.S. and Canada as they worked directly with food pantries since 2018.
"One of the greatest hurdles to addressing food insecurity is knowing where the need exists in our city," said Donna Sautia, Founder, Lighthouse of Hope Foundation. "What makes me most excited about this partnership is how it will help our leaders see where the greatest needs are and empower them to plan and provide accordingly."
Mayor Lock Dawson joined a "Dasher" for a home delivery during the ceremonies as more food was delivered to be prepared for distribution.
Comments